All the buyers should have experience to installation, If dont have much experience, please do not buy it.
Our all DIY Kits keeping upgrade. If the parts upgrade,will not inform another. If have some parts not the same with the photos.which is normally. The upgraded parts only more good than before.

1. This Kit Suitable Install on What Type Bicycle?
This EBIKE Kit is suitable for installation on the 22-28 inch common bicycles. If you want to install the bike below 22 inches, the difficulty of modification will be increased. You need to replace the original 9-tooth sprocket of the motor to a 13-tooth sprocket. If not change, the bike speed will too slowly. (If you need to change the 13-ooth sprocket, please contact with us or leave a message, you can replace the 13-tooth sprocket freely.) This kit is not suitable for special models and variable speed models and models under 16 inches.(modification this models have bigger difficulties so not suggestion.)
However, you can install the kit on the left hand side if your bike is18speed/24speed. you need to mount the freewheel on the left hand side on your rear wheel axis, and spot weld to secure it. After you have installed the kit , you can still shift gears on your bike. But if you don't know how to weld, we recommend you to buy our hub motor kit or our "mid-mounted" kit .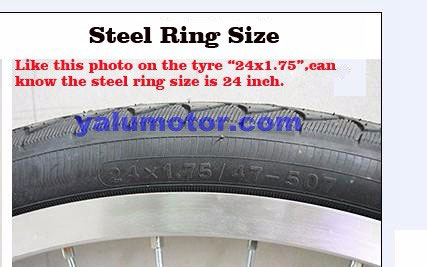 2.What battery is recommended for this kit?

For the DIY EBIKE (24V kits) battery generally use two pieces Lead acid or Lithium battery(the 36V kits need three pieces batteries) . After they are linked together as the power energy. The recommended battery capacity is 10AH-14AH.
Please kindly notice don't use the motorcycle battery. Need use the specialist electric bike battery. When you buy the battery need ask clearly if it specialist used on electric bike).
You may also can use the more lower or higher capacity Lead acid and Lithium battery as power supply. Just if the more lower capacity will cant running longer distance. If use the more higher capacity will increase the cost.
3.Is the kit include batteries?

No, the kit includes all the parts you need except the battery.the battery need yourself buy. Or contact with us about the battery buying link.
4.Is the kit include a English user manual?

Yes,we will send the English user manual by email,please contact us when you receive the kit.

5.Where should I mount the batteries ?
Battery box is not provided in this kit. But you can install it above the rear wheel on rear rack, or even make a box(need some DIY skills).You can design whether the batteries can take out or hard wired.If you need the battery box,please contact with us for the battery box buying link.